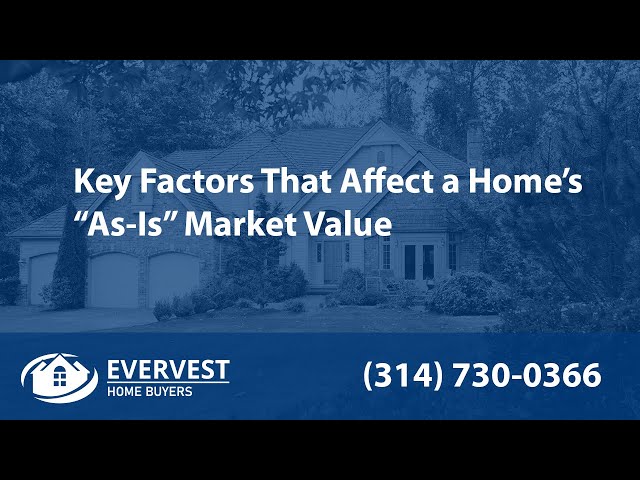 ---
Everyone wants to sell their house quickly and for the most money, but they don't know where to start. Should you sell to a realtor? Consider selling the house yourself? There isn't a right or wrong answer that can be applied to everyone, but selling to a St. Louis all-cash home buyer is a quick and easy process. While there are scams out there, knowing who you're working with and knowing what your home is worth is key to getting the most for your house.
There are a couple things that a cash buyer will look for during the consultation to determine how much they'll pay for your house:
The current condition the house is in.
How much it will cost for them to fix the house.
While that list might seem short, it's because the process is that streamlined. St. Louis cash buyers are professionals that know what they're doing and have the resources to make the process quick. They know what they are looking for in a house, and when they find it they act fast. Here is how a cash buyer will determine what they'll pay for your house.
Assessing the Current Condition of the House
Selling your house is stressful, so as-is home buyers make the process of selling to them hassle-free. After calling them to schedule a consultation, they'll assess your house to make sure that there is indeed a house for sale. That's it. I know, you're thinking, "what's the catch?" As-is home buyers specialize in buying homes with plumbing repairs, damaged roofs, and everything in between. They pride themselves on buying as-is properties that are less-than-perfect, and saving home buyers the hassle of fixing it themselves.
Determining the Cost of Investment
After assessing the current condition of your home, these St. Louis cash buyers will determine how much it'll cost them to repair any damage they find. Don't worry though, these buyers enjoy buying damaged houses and make an effort to offer the absolute most for them. After the consultation, they will make you an all-cash offer in as little as a week for your house. They understand that it's a struggle to maintain a home, so they work quickly to make sure that the process is hassle-free for homeowners. Not to mention, many as-is home buyers are locals in the area they're buying in, so they're committed to improving their community as best they can.
Signing an Agreement
While selling your house to a realtor can be time-consuming, after your consultation with a St. Louis as-is home buyer they will make an all-cash offer in a week. If you accept this offer, they'll draw up an agreement that you'll sign. This'll include the price they quoted you for your house, details about the current state of your home, and how the money will be payed to you when the house is closed on. It's important to thoroughly read these contracts and make sure that they're accurate before signing. If there's something in the contract that you don't like, most as-is home buyers will work with you until you're happy with it.
Closing on Your House
Closing with an as-is home buyer is as easy as signing a document that includes the original contract's terms and conditions, and confirms that you have a certificate of title and title deed. The certificate of title confirms that you are the owner of the house and that you have the right to sell the property. The title deed transfers the property to the as-is home buyer. While realtors charge hefty commission fees which are sometimes as much as 6% of the house's profit, St. Louis all-cash buyers work commission free. So once you close on the sale of your house, the money will be yours in as little as a week.
---
If you're interested in selling your home to a St. Louis Cash Buyer, Evervest Home Buyers is a trusted business in the community. We have bought more than 700 homes and pride ourselves on helping local homeowners through the difficult process of selling their house. We will provide a cash offer for you home in as soon as a week, and we will make every effort to provide you with the most for your home. If you're interested in scheduling a consultation, feel free to call (314) 730-0366 or Contact Us today!