Can I sell My House During Foreclosure?
---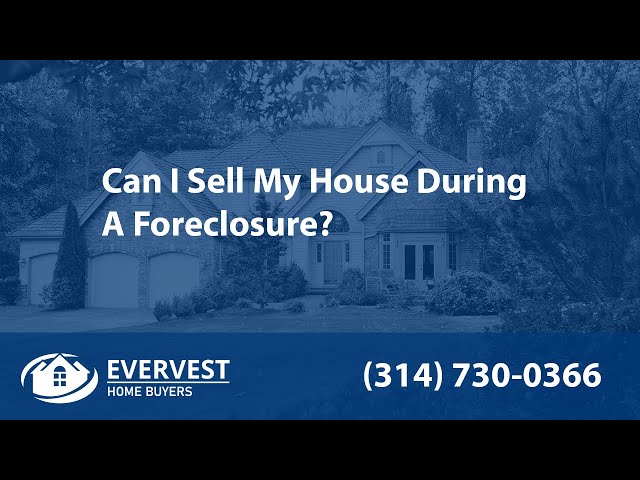 ---
If you're currently dealing with foreclosure and you need solutions to sell your St. Louis, MO house fast before the bank takes it, you do have options. Foreclosure is not the end of the road for homeowners. Evervest Home Buyers specializes in offering local St. Louis homeowners an option during foreclosure that they can use to sell their property and help pay off their debts before it's too late. If you want to speak with our team immediately to learn more about our offer, follow this link or immediately call (314) 730-0366.
How to sell your House during Foreclosure
You need to know that you are on a time limit when it comes to selling a foreclosed home. The bank is already in the process of the foreclosure and getting all of the legal documents ready to finish the process. You have until your home goes up for auction to sell the property. The exact date that your house goes up for auction is going to depend upon your bank and the particular situation, but in many cases you can have up to 30 days once the foreclosure process has started.
So what do you do first? How does the process start?
First – Get our Offer for your House – Determine what the Value of your House is, and whether selling it will pay off what you owe to the bank. Our team can help you with that. We can give you a quote for the immediate value of your property so that you'll have a clear idea of what you stand to gain in the sale of your house. As soon as we make an offer on your house, you can go to your bank and have them postpone the foreclosure because of the sale. This will save your house from being foreclosed on, and will save your credit from being seriously damaged.
Second – Let the Bank know you have an Offer – Lenders hate foreclosures. It costs money to foreclose on a property, and it also costs time that they aren't willing to spend either. When you notify them that you have a buyer who is willing purchase the house and that the sale of the house could potentially satisfy the needs of the mortgage, their is a good chance their going to be willing to work with you to finish out the sale. This is known as a Short Sale. In these types of sales, you're selling the house for less than it's worth, but it's important to remember that it saves the bank the hassle of dealing with the foreclosure and it also saves your credit score from being damaged.
Third – Close on your House in Under 30 Days and Save your Credit – Once the bank has been notified of the offer, we can close on your house in 30 days or less. We know that time is important for your situation and that the quick sale of your house is the most important part. We don't charge any of the normal fees to close on your property. We will never require you to pay realtor's fees, assessors fees, inspection fees, or other fees that are typically associated with a home sale. All we want is the house, so we cut out all of the other unnecessary costs and fees to streamline the process and make it as simple and easy as possible.
Sell your House in Foreclosure
St. Louis

,

MO

We understand that foreclosure is stressful. The bank is hassling you for payments or for your other assets, and other creditors are possibly calling you as well. We are here to help. We've helped hundreds of St. Louis residents get out from under their houses when they are faced with foreclosure, and we can do the same for you. If you have any questions about the process, what you can expect for your house, or have other questions about the AS-IS house buying process, call our team today at (314) 730-0366.