Can I sell a House during Probate?
---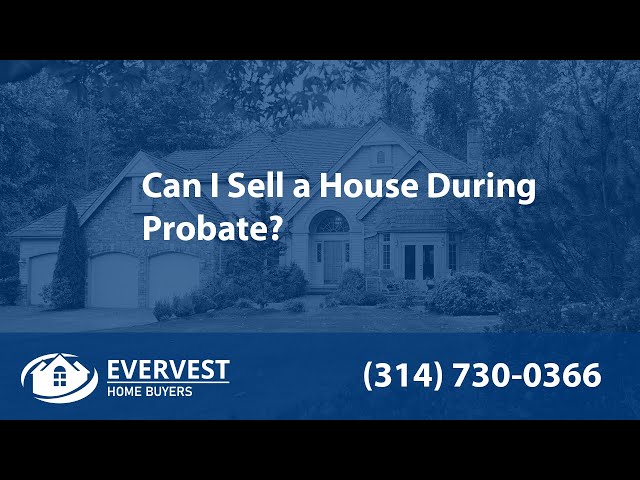 ---
The process of distributing a deceased loved one's possessions can be complicated and stressful. If you have a house in probate that you would like to sell, our expert home buyers at Evervest will not only offer you a fair, all-cash offer for the house, but will walk you through the legal process of selling a house in probate. Call us now at (314) 730-0366 to find out more about your options, or contact us online to get an offer today.
First, what is probate? Probate is the legal process of deciding what happens to someone's estate after a person has passed. This includes distributing the remaining property to any heirs or family members or designated persons, and also includes paying off any debt that the deceased may have owed. Probate and the distribution of any property is typically dictated by a will.
So now that we know what probate is, can a house be sold during probate?
The answer is YES, but there are certain steps you have to take to do it correctly. What are the steps to sell a house in probate? Listed below are the series of steps that our team recommends you take to sell a house during probate.
Authentic the Will– The will of the deceased has to be proven to be authentic and valid. Typically, there will be witnesses who signed the will, and there should also be a copy of the will with your local municipality. Once the will have been determined to be authentic and valid, the probate process can move onto the next step.
Alert the Court and or Others – If you aren't the only person stated in the will, and if other people in the will have a vested interested in the house, you're going to have to alert everyone of your intentions to sell the property. You're going to have to tell them how you intend to do it, and the price you'll be selling it for. This has to be approved by all parties.
The Property has to be Appraised – Outside of probate, a house can be sold for any amount, but while going through probate, the value of the property has to be determined. This allows all individuals with a vested interest to know how much the property is worth, and what they stand to gain from its sale.
Choose between an All-Cash Buyer, or Traditional Real Estate – You may not have the time to deal with the traditional real estate market, or the house may not be in a competitive position or condition to sell. Often, during the probate process, the best way to sell a house quickly and to get the cash value of the house is to sell it to an All-Cash Buyer. Our team has offered this solution to hundreds of individuals dealing with the probate process, and
Accept the All-Cash Offer, or Wait up to 60 Days – It now takes up to 60 days to sell a house in the traditional real-estate market. That is two whole months of waiting and hoping that someone is going to want the property. With Evervest Home Buyers, we can close on a house in as little a 7 days, and always within 30.
Close on the Offer – If our offer meets your needs, we can close on the property. Remember, we don't require you to do anything to the house. No updates, inspections, nothing at all is required from you. We want to give you the cash value of your property. Once you have the cash in-hand, it's yours to do with as you will. If there are other people listed in the will who benefit from the sale of the property, the money will most likely have to be divided between you.
The most important thing to remember when selling a house during probate is that anyone listed in the Will who has rights to the house also has rights to agree or disagree to the sale, and the price of the sale. You're going to want to make sure that everyone is on board with the sale, and that when the sale is over the profits are split according to the will.
How to sell a house during Probate
We're a local team, not a major organization. We understand families, and know what the probate process is like. We understand that going through the probate process can be hard because there are going to be emotional attachments to the property, and lots of opinions on what should be sold, how much it should be sold for, and who gets to keep what.
What we offer is a simple solution to make sure that the property is responsibly sold, and that you receive the cash value of the house in a quick and efficient manner. If you have any questions about the probate process, what your property is worth, or questions about our all-cash offers, feel free to contact our team today at (314) 730-0366.
If you're not currently dealing with probate, and your property is either outdated, inherited, or you are downsizing, we can still make you incredible all cash offers.