Can I sell my House during a Divorce?
---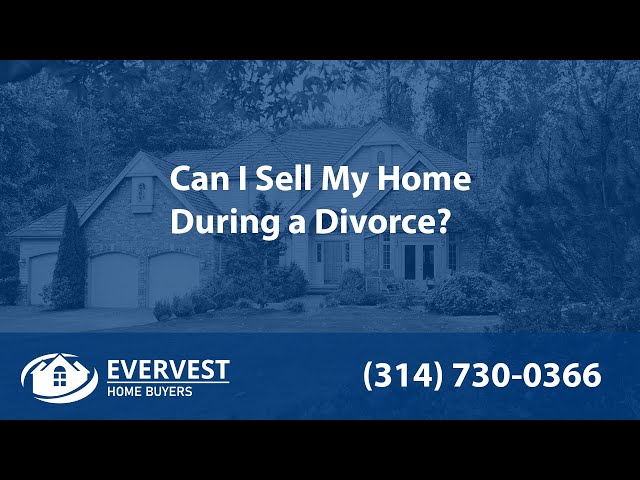 ---
A divorce is never easy, and never the first choice. The splitting of assets, both physical and financial, can be hard, especially when it comes to the house. How do you sell a house during a divorce? Can you sell a house during a divorce? The answer is yes. Call us today at (314) 730-0366 for more information. Or, take a look below at a few steps you can take to sell your property during a divorce. Contact us online to get an offer today.
Step 1 – Appraisal – During any splitting of assets, the value of everything is going to have to be determined. The cost of an appraisal is affordable, and will give you the exact market value of your property. Any court is going to require that the value of the house in known and made aware to all parties.
Step 2 – All-Cash Offers vs Traditional Real Estate – Divorces take time. Selling a house on the traditional real estate market takes time. Both can take the better part of several months, or even a year. You may not want to update the property, or the property could be in disrepair. We offer a solution. Our All-Cash offers typically close in under 30 days, with many being closed in as little as 7 days.
Step 3 – Accepting your All-Cash Offer, or Waiting for it to Sell – Time is the difference here. Do you want to be tied to the property for several months, dealing with the divorce and fighting over who gets control of the house, or would you rather get the cash value of the property quickly and have the ordeal finished?
Step 4 – Dividing the Profits – When the sale of the house is finished, you'll have to divide the profits equally between you and your spouse unless a prior agreement has been arranged. This is another reason why all-cash offers are better. There are no added fees, no inspections required, no realtor fees, nothing. We don't require anything from you other than the sale of your house. This gives you the maximum amount of profit to work with.
How to Sell your House during a Divorce
We understand that selling your property during this time is going to be difficult. The divorce may not be agreeable, and your spouse may not be willing to listen to your offers. We're a local company. We understand the difficulties that are presented when a divorce happens because we've offered house selling solutions during a divorce before. If you and your spouse want to ease the burdens of the process, and accept an all-cash offer for the value of your property we're here to help you. We typically close any sale in under 30 days, and in many cases can close in as little as 7 days. For more information about processes, the types of offers we make, or what you should expect for your property, call our team at (314) 730-0366.
---