Selling a Home in Pre-Foreclosure in Springfield, MO
Selling a home in pre-foreclosure in Springfield, MO. Tough times can fall on the best of us, but foreclosure is not the end of the road for homeowners. While losing your home and facing an enormous hit on your credit score is not a situation anyone wants to be in, you do have options if you find yourself there. Evervest Home Buyers is a cash property-buying company that buys Springfield, MO homes in foreclosure. Our buyers are personable and discreet. We can have an estimate ready for you right when you upload pictures, have our official offer in as little as 48 hours, and close in as little as 30 days – before the lender sells your house. Call us at (417) 815-3889 or contact us online to get out from under your debt. Depending on how much you owe, you may even be able to have some cash left over.
The Pre-Foreclosure Process in Springfield, MO
Pre-foreclosure is the period between when you fall behind on your mortgage payments and when your Springfield, MO lender auctions off your home off to the highest bidder. It usually happens in five stages:
Payment default — Payment default begins when you've missed paying one month of your mortgage. After each of the first two missed payments, your bank will likely reach out via letter or telephone. At this point, you may be able to work something out with the lender to get up to date on payments. Federal law requires lenders to discuss loss mitigation options with you.
Notice of default — After the third month of missed payments, the lender will send you a notice of default, detailing how much you owe and informing you that, to avoid foreclosure, you must bring the mortgage up to date within 30 days. Federal law states that lenders must wait 120 days from the first missed payment to start the process of taking your home.
The lender officially begins foreclosure — If, after that period has ended you haven't caught up, the lender will begin either a judicial foreclosure or a nonjudicial foreclosure. In a judicial foreclosure, the lender sue you in civil court. In a nonjudicial foreclosure, they'll proceed out of court, but they must abide by the rules set by

Missouri

statutes.
Sale of the home — In either case, the home will will be sold in a public option. The lender will set a minimum bid which accounts for the value of the house, the debt that remains unpaid, and any fees or unpaid taxes.
Eviction — Once the home is sold, you'll have between three and 30 days to leave. If you remain in the home, the new owner can file an eviction lawsuit in court.
While the foreclosure process may seem cruel, there are a few different ways you can lessen the consequences for yourself.
How to Stop Foreclosure in Springfield, MO
You have a few options whenever you're house is in pre-foreclosure or foreclosure in Springfield, MO:
Reinstate the Loan
Reinstating a loan usually includes settling the past due payments and any other penalties or fees. Once the mortgage is current you will be required to continue with the monthly payments as previously agreed.
It's important to note. If you fall behind again the home may go into foreclosure again. It's possible to take out a loan with a different bank, but the interest rates will likely be high, and you'll have to keep up with the payments in addition to your mortgage.
Deed in Lieu of Foreclosure
In a "deed in lieu," you can agree with the lender to voluntarily transfer ownership of the property to them in exchange for discharging your unpaid debt. Your credit score would not take a hit, and the lender wouldn't have to deal with the nuisance the foreclosure process. The lender can then sell the home, or keep it as a rental property, but you would still likely have to move out.
Bankruptcy
The goal of bankruptcy is to provide a fresh start for you by either eliminating or reducing your debt. If you go the bankruptcy route, you'll still be responsible for paying off the mortgage, but with a more realistic payment structure. There are two types of bankruptcy you can file:
Chapter 7 Bankruptcy
If you file for Chapter 7 bankruptcy, you will not have to pay off the rest of your mortgage if the lender completes foreclosure, and you can remain in the home during the process without having to pay the mortgage. This is usually a way to simply stall foreclosure for several months while you plan your future.
Chapter 13 Bankruptcy
If you choose Chapter 13 bankruptcy, you may be able to not give up your property. You'll have to stick to a payment plan – under supervision of a court-appointed trustee – that allows you to become current in three or five years.
Bankruptcy has severe downsides, however. First, you'll need to show that you are eligible for it, and all your debts, expenses, and income will be analyzed. You'll also incur many court fees for bankruptcy lawyers. If you're already struggling with money, bankruptcy still may be too expensive.
Sell Your Home in Pre-Foreclosure
Another possibility is to find a buyer and pay off the remainder of your mortgage with the money you get from the sale. There are a couple different types of sales for a pre-foreclosure home:
Short sale — Lenders are obligated to consider any offer made on your Springfield, MO property. In a short sale, the offer on your Springfield, MO home in pre-foreclosure is less than the amount you owe. The lender can then consider if getting less than the remainder of the mortgage is worth not having to deal with the hassle of a foreclosure. A short sale can negatively impact your credit score, but not to the extent that a foreclosure does.
Traditional sale — If a potential buyer offers more than your remaining mortgage, you can simply sell your home to an interested buyer, use the money to pay off your mortgage, and pocket the rest.
You can try to sell your home through a real-estate agent, but the foreclosure process takes between 45 and 60 days. Based on research by the St. Louis Federal Reserve, selling a house on the traditional market takes over three months, and that doesn't account for the time it takes to prepare the house for sale. If you're in pre-foreclosure, selling your home to an as-is, cash home buyer may be your best option. Once you accept our offer, we can close as quickly as you need us to.
---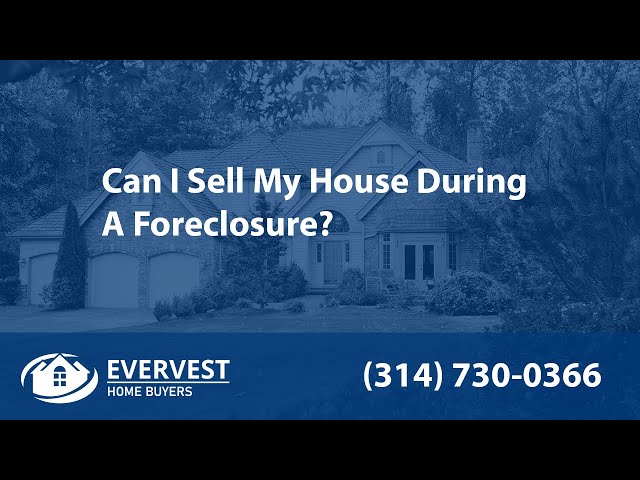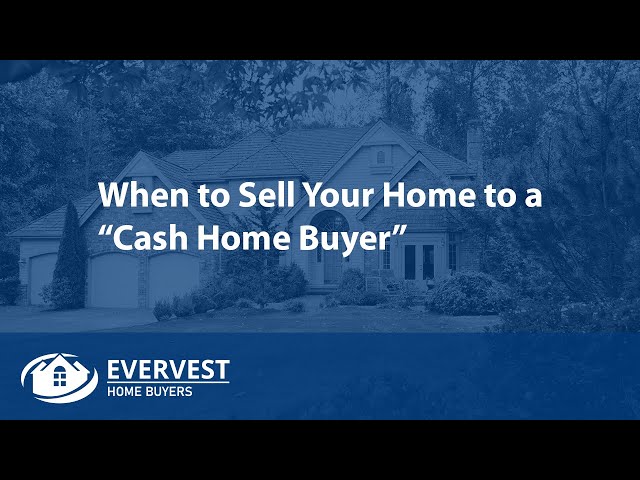 ---
Selling Your Home in Pre-Foreclosure to Our Springfield, MO Cash Home Buyers
Evervest Home Buyers buys homes with all cash offers, and strive to give Springfield, MO homeowners a stress-free home selling experience. We buy all types of properties, from houses in probate to houses with mold issues.
We buy properties "as-is," which means that the condition of the property doesn't matter to us as it would to a typical homeowner. You also don't have to do open houses and wait to find a buyer. We can help you in selling your home in pre-foreclosure by:
Giving our best possible offer fast — If you upload photos of your home, we can give you a same-day estimate. Then, we'll schedule an inspection, where one of our buyers will carry out their own inspection. You don't even have to wash the dishes before we show up. We always strive to offer the most we can for a home in Springfield, MO while still being able to profit off it ourselves.
Making the home selling experience stress-free — We understand that your Springfield, MO home being in pre-foreclosure is not the best time in your life, and you may be nostalgic about leaving your home. We'll won't make things any more stressful than they already are. Unlike other cash home buying companies, we have no loopholes in our contract. We'll show you proof of funds so you can feel at ease.
Getting you money fast — While banks prefer not having to go through the foreclosure process, they'll still move to take over and sell the house as quickly as possible. We can help you sell your house fast. There's no waiting for inspections, appraisals, or open house. As licensed real estate brokers, we can perform the closing ourselves, as soon as you need us to after we agree on a price.
Saving your credit score — Having a home in pre-foreclosure won't effect your credit score. However, if the foreclosure is completed, it has a huge negative impact on your credit score, that won't go away for 7 years. While selling to us won't allow you to keep your home, we can save you from the financial perils of foreclosure.
Other services we offer in Springfield, MO include:
Selling Your Springfield, MO Home in Pre-Foreclosure | Evervest Home Buyers
Everyone hates foreclosure – even mortgage companies. Selling your home in pre-foreclosure is often the best option for everybody involved. Our buyers are cordial and nonjudgmental, and can help you get out from under your debt and save your credit score. We'll make a fair cash offer on the property, close on the deal quickly, and assist with the legal and financial aspects of the sale. If your Springfield, MO home is in pre-foreclosure, call Evervest Home Buyers today at (417) 815-3889 or tell us about your property online.